Welcome to Arlington National Cemetery Concierge
Arlington National Cemetery provides all the information you will need to help you prepare your memorable visit to Arlington National Cemetery.  We are sorry for your lose but we are here to help you make your funerals as easy and painless as possible.  Below you will find a brief overview of some of our features:


| | |
| --- | --- |
| ANC Concierge has found the best possible services with experience in working at Arlington National Cemetery. You can easily find hotels nearby at the price range you are looking for, or photography or video services for your Arlington funeral. Many people do not know of some of the services available, like having a dove released or having a bag pipe player to end the funeral. | Here you will find articles on Arlington National Cemetery to help inform you on the amazing history of our nation's cemetery. Learn about the history and find out the latest Arlington Cemetery news. Did you know over 200,000 reefs are placed every December, or that there used to be homes in the Cemetery? Find more fascinating Arlington National Cemetery news & articles here. |
| Driving into the Cemetery can be difficult, use our driving information to ensure enough time to arrive so you do not miss the funeral. You can also find detailed maps of the cemetery to help find your loved ones. | Arlington National Cemetery Concierge is here to help make your funeral at Arlington Cemetery a memorable one. We are dedicated to helping you and your family with anything you may possibly need in your time of need. |
| If you have any questions, feel free to contact us below. We have worked with families attending Arlington National Cemetery funerals for over 10 years and we are here to help. | |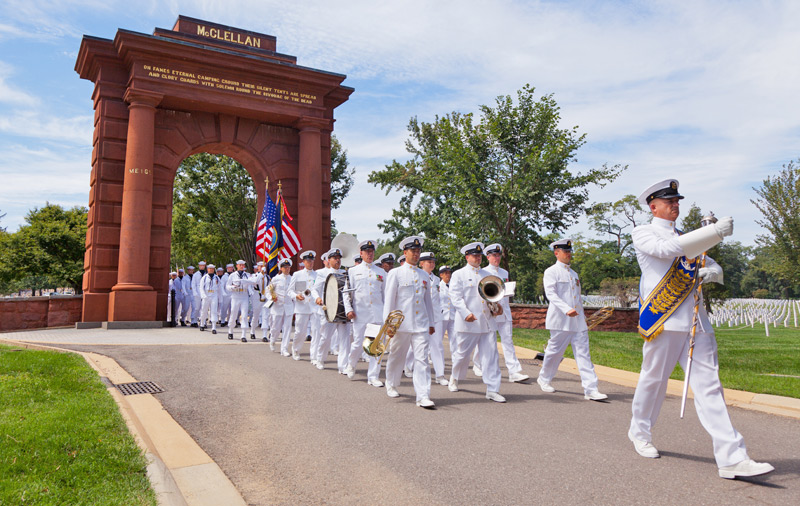 A funeral band marches through McClellan gate during a funeral at Arlington National Cemetery in 2011.